Bringing FinTel

to the Next Billion

fonYou brings together Fintech and Telecoms to give customers access to Financed Telecom services and Electronic Payments
In poorly banked, prepaid-dominated markets, carriers have a once-in-a-generation opportunity to drive Fintech and allow millions of mobile customers to be financially included.
To address this challenge and opportunity, fonYou partners with telcos to provide customers with Financed Telecom services and Electronic Payments through fonYou's iCarrier platform.
View our solutions
Increasing carrier revenues
while making customers happier
iCarrier Platform
An AI-powered solution delivering personalized services to customers in real-time
1
Event Capture
The iCarrier platform looks for relevant real-time "events" on the network
(Big Data)
Event Captured:
Browsing attempt with insufficient balance
2
Customer Analysis
It analyzes the event from the context of the subscriber's purchase history
(AI and Machine Learning)
Customer Profile
Customer Type:

Data only purchases

Top-up Pattern:

Regular

Payments Record:

Reliable
3
Offer Generation
It decides on the most suitable available service to offer and generates an offer in real-time, via their preferred channel
(Omnichannel and behavioural Marketing)
Most Suitable Offer
200MB data credit
Preferred engagement channel: SMS
4
Delivery & Execution
When the subscriber accepts the offer, the service is delivered to them and the transaction is processed
Status
Offer accepted
Service delivered
Transaction processed
Learn more
Good things happen
when operators engage fonYou
Who is fonYou?
By bringing together Fintech and Telecoms, fonYou transforms carriers into digital, analytics-driven businesses that can monetize customer events and maximize new revenue opportunities.
Using AI and micro-analytics, our proprietary iCarrier platform, combined with our telecom market expertise, empowers operators to boost their bottom line while increasing subscriber satisfaction.
The company was founded in 2006, is headquartered in Barcelona and has offices across the United States, Latin America and Africa.
Learn more
Reasons why carriers choose fonYou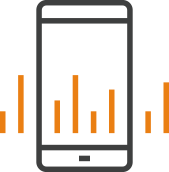 We understand carriers
We are 100% focused on the mobile industry

Proven track record
Our solutions are tried-and tested and in production with many tier one operators globally

Fast to market
Forget years or months - we typically deploy within weeks of engagement

Full local support
We deploy a local team of experienced executives to ensure we maximize business results

Joint roadmap
We identify your business challenges and jointly agree on a roadmap of services
Learn more